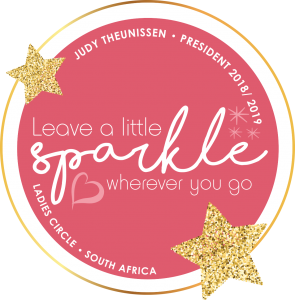 Welcome to the Ladies Circle South Africa website!
What an amazing organisation to belong to! Through friendship and service we make a difference to the lives of so many needy and deserving individuals and groups.
I have been actively involved in Shiraz Ladies Circle No 8 since January 2009 when I was introduced to Ladies Circle South Africa. In May 2013 I was inducted as Vice President of LCSA and here I am again – President of Ladies Circle South Africa 2018/2019!
Contrary to popular belief, stay-at-home-moms don't "koek en tee" all day long, so with time on my hands, I've jumped into all things Circle! I have been able to travel the word, meet like-minded ladies, all while making a difference in the lives of those in need.
Currently Ladies Circle South Africa has 9 active Circles, spread throughout the country in the Western Cape, Southern Cape, Eastern Cape, Gauteng, Limpopo and Mpumalanga
Ladies Circle has given me the opportunity to meet Circle sisters from all over the world who, each in their own way, reach out and give back to those less fortunate.
My motto for 2018/2019 is to Leave a Little Sparkle wherever You Go! One small act of kindness is all it takes!
Enjoy browsing through all the Ladies Circle information and photographs!
Yours in Circle
JUDY THEUNISSEN
LADIES CIRCLE SOUTH AFRICA – PRESIDENT 2018/2019
2008-2009
SILVIJA BREYTENBACH
2007-2008
SILVIJA BREYTENBACH
2006-2007
SUSARAH CARPENTER
2005-2006
CHANTESS WIGGILL
2004-2005
SANDY VAN NIEKERK
2003-2004
JACQUELINE SWART
1994-1995
CHRISTINE LAMPRECHTS